The Atlantian Herbal Guild
Medieval Herbs and Gardens
Contact Mistress Meadhbh the Handy for more information. theoilmaven [AT] yahoo.com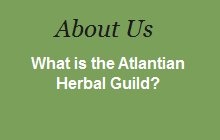 The Atlantian Herbal Guild is a group of people within the SCA who share a passion for all things Herbal as it relates to the medieval period of history. They study the historical aspects of growing, harvesting, processing, and using herbs as it was done long ago. Topics can range from poultices, essential oils, herbal teas, medicines, and culinary uses.
Disclaimer
and copyright notice
This is the recognized website for the Atlantian Herbal Guild, a Guild of the Kingdom of Atlantia of the Society for Creative Anachronism, Inc. and is maintained by Baron Edward Shirebrooke, THL (Rick Dawman). This site may contain electronic versions of the guild's governing documents. Any discrepancies between the electronic version of any information on this site and the printed version that is available from the originating office will be decided in favor of the printed version.
Copyright © 2016 Herbal Guild, Kingdom of Atlantia. The original contributors retain the copyright of certain portions of this site.
For information on using photographs, articles, or artwork from this website, please contact the web minister at rick [AT] risingsuntribe.com. They will assist you in contacting the original creator of the piece. Please respect the legal rights of our contributors.
All external links are not part of the Atlantian Herbal Guild website. Inclusion of a page or site here is neither implicit nor explicit endorsement of the site. Further, SCA, Inc. is not responsible for content outside of atlantia.sca.org.
© Copyright 2016 The Atlantian Herbal Guild